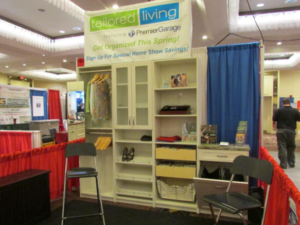 It's that time of year when we are all wishing for Spring, and we begin thinking of projects that we would like to tackle in our homes. Whether that project includes simply painting a few rooms or a significant renovation, The NH State Home Show is a great place to get inspiration!
The "Home Show", which is produced by the NH Home Builders Association, is the largest in the state of New Hampshire. Held at the Radisson Hotel at 700 Elm Street in Manchester NH, March 17th through 19th, 2017, you will see displays for anything that you can imagine for the interior or exterior of your home. This is your destination to speak with home professionals as well as see the products that they sell.

You will find B Burton Custom Décor in the Ballroom in Booths 800 and 701: right inside the main entrance of the Ballroom. We will primarily be displaying shades and blinds from Hunter Douglas and Lafayette Interior Fashions, but you will see drapes and top treatments as well.
The primary exhibitor in this space is Millyard Cabinetry Inc of Manchester NH. Bob McKenna designs, sells, and installs cabinetry for every room and every budget. Bob's cabinetry displays are NH-made from Young Furniture of Bow NH.
In addition to cabinetry, you will see quartz and laminate countertops as well as display towers from partner Wilsonart LLC. You will also be able to view granite countertop and sample displays from RE Marble & Granite of Temple NH.
Across the aisle, you will want to speak with our partners Bryan and Michelle from Tailored Living of NH/Featuring Premier Garage for all of your storage solutions from walk-in closet to garage cabinetry!
For more details, such as times and for purchasing tickets, click on the link:
https://www.nhstatehomeshow.net/
Besides great exhibits, you can support our veterans, see tiny houses up close, and attend some awesome seminars by design/build professionals! Forget the snow, head to the Home Show!
Comments