Welcome to the very first blog post from our new website! Thank you for joining us, and I hope that you find what I share keeps you entertained and coming back!
I will share how we can help our Interior Design clients make their homes more functional and comfortable, while reflecting their individual style. Our desire is to eliminate the overwhelming feeling that homeowners sometimes experience when trying to make decisions about purchases or services for their home.
"It All Started with a Faucet!"
"How do I get started?" you ask yourself. When might it be best to speak with a designer rather than to try to manage it yourself?
Early Summer, a beloved client called me to say that her kitchen faucet had broken and asked if she should repair or replace it. Considering that this faucet was original to the home (12 years old), it had already lived its life.
"Replace it!"
And she always wanted an under mount sink rather than the stainless over mount that came with the house.
"Does going from over mount to under mount require new countertops?" she asks.
Realizing that her busy schedule was not going to allow her the time to research products, locate places to purchase the products, and hire trusted trades people to do the work, I was hired for this kitchen project!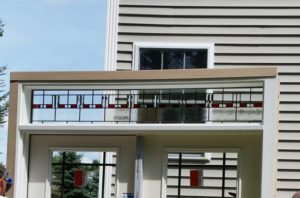 In the meantime, the entry door/transom window unit to the kitchen, was diagnosed as also having "lived it's life" and should be replaced before Wintah. (YES, it was structurally necessary and not just a design choice!) This couple decided that they would like the new door/transom to be decorative, and a significant part of the overall kitchen design, so I was now speaking with our contractor about the replacement and learning about grillwork in glass and colors of leading in decorative transoms.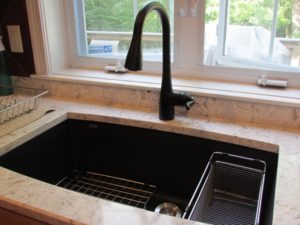 For a minute we thought the new faucet, sink and countertops were going to be put on hold, but the couple decided to forge ahead and get 'er done! In addition to the new entry door (which also involved selecting interior door color, hinges and hardware), we selected a Moen faucet, a Silgranit sink with several accessories, Wilsonart Quartz countertops, and Amerock switch plates.
We determined that carpet would be beneficial in some of the kitchen as area rugs, so I was off to purchase carpet/padding which was cut and bound onsite to the measurements that we desired. You get the idea; the project snowballed! We painted some things that we didn't originally plan to and purchased some things we didn't originally plan to. A chandelier was inherited that we had hung in the living room, etc, etc, etc!
Would Mrs. Homeowner have been capable of making all of the phone calls to all the tradespeople that walked through her house over the course of these projects? Of course! Would she have access to an address book of these professionals, and locations to purchase these products? Maybe not. Would she have had time to research and locate all of the products, make all the calls to hire all of the contractors that walked through her door, manage the project schedule, to meet her deadline? Definitely not!
While it is certainly admirable for a homeowner to take on overseeing a large home project themselves, it may not be efficient or practical, unless they've done it before and have a list of contractors with which they routinely deal, that are licensed to do the work and will respond immediately when they are called.
When considering hiring a designer, remember, it all started with a faucet!
Comments