You may know October to be synonymous with Halloween, but October is also a month where we talk about something more terrifying: unsafe window treatments around children and pets. That's why October is national child safety month for window treatments.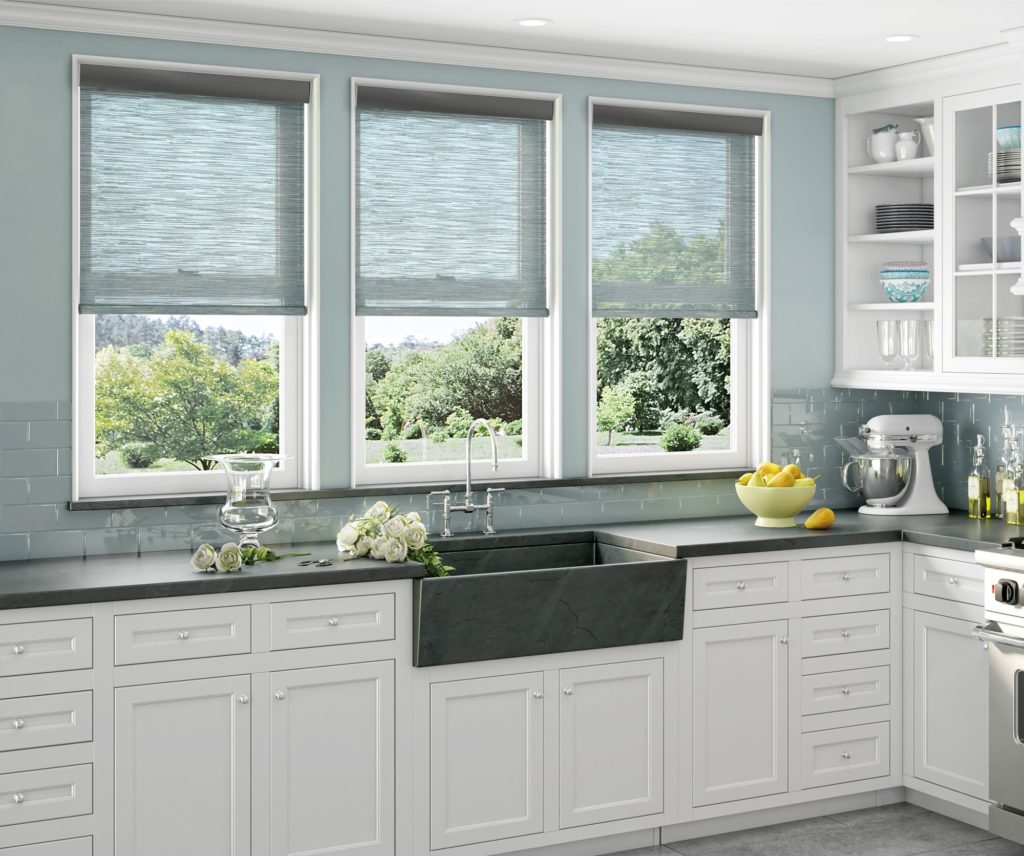 Many people don't put much thought into the safety of their window covers. Many homeowners pick for look and feel as well as price, and don't consider that dangling cords can pose a hazard to children and pets. Every year many unfortunate children and pets alike accidentally undergo strangulation from unruly window coverings cords, blind cords, and more. According to the Consumer Product Safety Commission's (CPSC) research, between 1996 and 2012, about 184 infants and young children died from strangling due to window cords. What can we do to prevent the harm of our children and pets from window cords?
The window coverings industry use all kinds of stickers, labels, tags, and more to warn of potential safety issues when it comes to the safety of your children and your pets. Many of our window coverings vendors go even further to certify their products specifically for use around children and pets.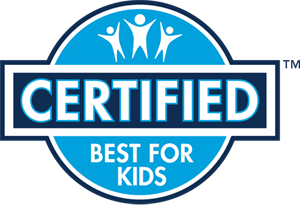 To assist, the window coverings safety council has introduced a new Best for Kids certification label:
"The new Best for Kids™ certification program recently launched by the window covering industry will assist in educating consumers about potential window-cord hazards facing young children and will aid consumers in making the right choice when selecting window coverings. In order to be eligible for this certification, manufacturers must meet the specified program criteria and submit their window covering products to a designated third party testing laboratory. Once products pass testing they may be labeled "Best for Kids".
Products that qualify for "Best for Kids" either have no cords, no operating cords and inner cords that are not accessible, or if accessible inner cords are present in products with no operating cords, the accessible inner cords cannot create a hazardous loop."
Lafayette, for example, has many Best for Kids certified products. You can check out their full list of Best for Kids certified products on their website. Lafayette is even offering a limited time discount on their child safe products from Sept. 30th through December 7th, 2019. For a limited time, you can get a free child-safe lifting option on select Lafayette Interior Fashions window coverings, including wood and aluminum blinds, and more. Contact us today for details on this great promotion!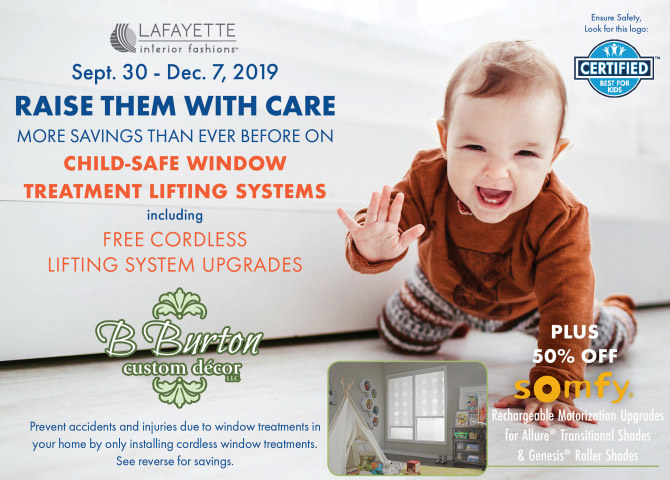 Graber also has a list of products which are best for use with kids and pets. You can view a helpful chart on their website.
An easy option is to go cordless. Our vendors offer cordless options for almost all of their window coverings. If you're thinking about purchasing new window treatments for your home and you have small children and pets, it may be a no brainer for you to choose cordless window treatment options. As time moves on, cordless, motorized options become more and more affordable and the "no-brainer" option for ease-of-use, versatility, and most of all safety! B. Burton Custom Decor can help you select the perfect cordless and/or motorized window coverings that both look fantastic and offer unparalleled safety for your family members – just contact us today!
Still, if you can't or don't want to replace your window coverings right now, there are some safety precautions you can take to reduce the risk of your child or pet being harmed by a window cord.
Keep all cords out of reach of children at all times. That means tying them up or tying them back so they are well past the reach of a child.
Make sure that all furniture, cribs, beds, and any climbable surfaces are away from windows and window cords.
Adjust all pull cords to the shortest length possible.
Pull continuous-loop cords tight and anchor them to the wall or floor with a tension device.
Utilize "cord stops" and make sure they are installed properly.
If you have questions about window covering safety, please don't hesitate to contact us. We can help you select new, safer window coverings, or tackle the safety of your existing window treatments.
Comments